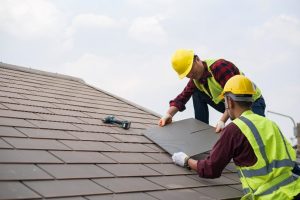 Let's look at your roof from a business point of view. The structure that houses your operation serves as an invaluable resource — one that is in your best interests to keep in optimal condition. This is especially true when that part of the structure is integral to your company's smooth functioning. When your building needs roof replacement in St. Charles County, MO, this, directly and indirectly, impacts your business.
A leaking roof weakens the building structure and exposes your workers, machinery, and products to damage. A roof that shows sunlight from the attic is one with holes that allow water and varmints to come inside. And a roof with visible missing shingles and gaping holes lowers the property value. It's time to top off your building with quality products and superior workmanship.
Finding the Right Roofer
Not all roof replacement companies are the same. Look for one with an established reputation and a proven track record. It's essential to choose a company that's big enough to promptly do the work. It would be best if you had plenty of capable workers and a wide range of product options to install a new roof according to your demands, timetable, and budget. One company that gives you all of this and more is Biebel Brothers Roofing.