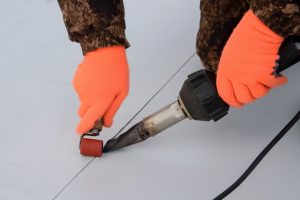 When you say the word "roof," you're referring to a range of different styles, materials, and features. For different commercial and residential purposes and design preferences, there's a roof to match. At Biebel Bros Roofing, we proudly serve homeowners and businesses by offering installation and repair services. Here is some information about a few of the types of roofing in St. Charles, MO, that we provide.
Commercial Flat Roofs – Businesses, schools, manufacturing plants, and other facilities typically have a flat roof. Often, these include a plywood or synthetic material and fiberglass underlayment. Above the underlayment is a weather-proof, leak-resistant surface, such as EPDM synthetic rubber.
Asphalt Shingles – By far, the most common residential roofing material, asphalt shingles are a popular, durable material. These tough, easy-to-replace shingles are economical and, depending on which you choose, will last from 20 to 30 years.
Metal Roofing – More expensive than asphalt shingles, a metal roof offers superior longevity. Additionally, they help homeowners maximize their indoor energy efficiency.
If you have any questions about these or other roofing types, our roof company is here to take your call. Keep us in mind the next time your property's roof requires professional attention.